So to break in this blog right off the bat, I thought I would write my first tutorial.
It is called Vintage Christmas. It is made with a beautiful kit from TootyPup.
So if you are ready, here we go!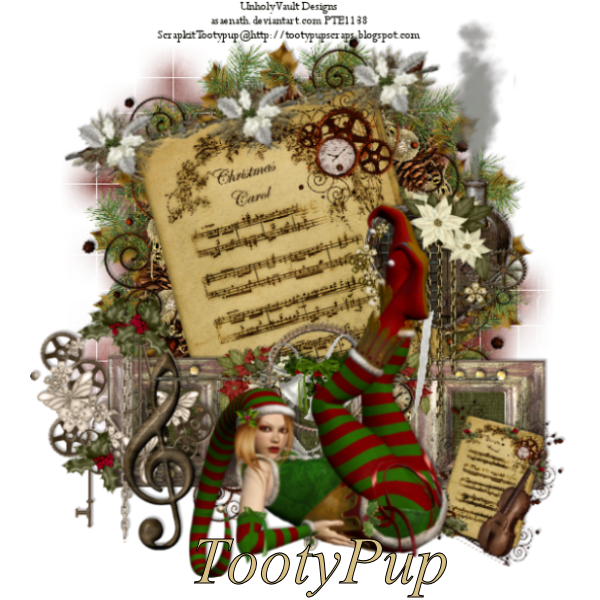 I LOVE STEAMPUNK and I enjoyed using this Vintage Christmas kit, with so many beautiful elements that are
very easy to work with.
This tutorial was written by myself 11/19/11 for this blog, Desert's Place
Any resemblance to any other tutorials is purley concindental.
The kit I am using is PTU Vintage Christmas from Tooty Pup Scraps, you can purchase
WCL Mask 84 which you can get
HERE
tube is from unholy vault and was part of the christmas gift 2011 from PTE
HERE
All dropshadow is V -2, H2, Opacity 29,Blur 2 except on the mask layer I did not use one.
Open new image 600x600 transparent box checked
Copy and paste paper 51 as new layer
layers, new mask layer, from the dropdown chose WSL84, source luminance checked
apply mask, merge group
Open TP_ChristmasWreath 2 and re size 60% copy and paste as new layer in center
Open TP_ChristmasCarol2 and re size 50%, paste and paste as new layer, rotate slightly left using the pick tool.
Open TP_clusterframe2 and re size 30% ,copy and paste as new layer over lower part of christmas carol2 and wreath
Click inside all the frame boxes with magic wand, selections, modify, expand 3
Copy TP_paper 51 and paste as new layer, selections, invert, and hit the delete button,
selections select none, drag paper layer under frame.
Open TP_ChristmasDeco 1and re size 40% ,copy and paste as new layer on right side of carol paper and wreath.
Open TP_SteampunkChristmas bar2 and re size 50%, copy and paste as new layer at top of carol paper rotate slightly left with
pick tool.
Open TP_ChristmasCarol7 and re size 20%, paste as new layer at lower right side over frame, rotate
slightly right with pick tool.
Open TP_ChristmasSteamheart1 and re size 50%, copy and paste as new layer middle right side.
Open TP_Christmasbar1 re size 50% , copy and paste as new layer, place top middle of frame
Add your tube, and credits, layers, merge visible and SAVE
I would love to see your results if you try my tutorials, you can send them to
me at desertgirl2020@yahoo.com
Thank you for trying my tut!